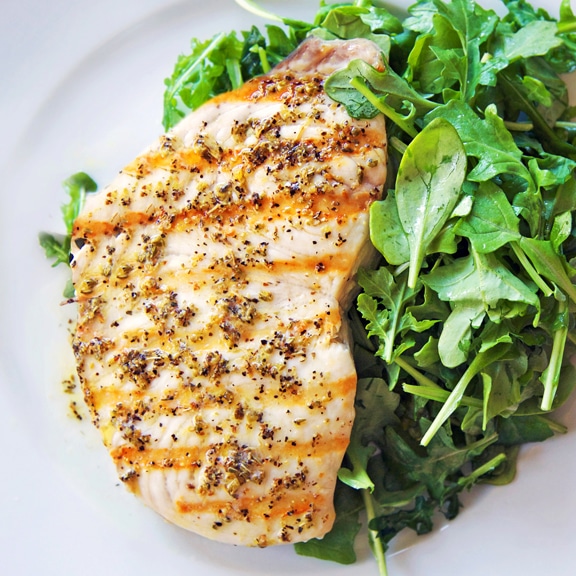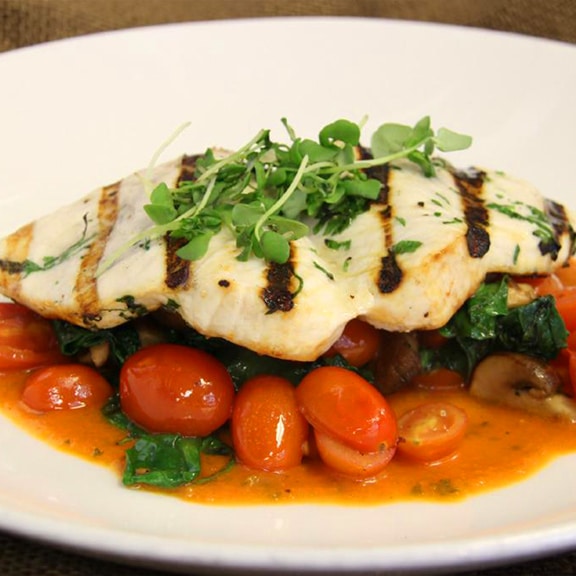 Although there are a variety of fish with bills, there is only one Swordfish.
Swordfish's meaty, firm texture means it's great on the grill and can stand up to a variety of cooking applications.
COUNTRY OF ORIGIN: USA
CHARACTERISTICS: Swordfish meat is moist and flavorful with a slightly sweet taste. Steaks have a moderately high oil content and a firm, meaty texture.
COOKING SUGGESTION: Grilled | Baked | Broiled | Pan Roasted
WINE PAIRING: Rhone
---
RECIPE:  Pan Seared Swordfish Steak with Tomato and Basil Balsamic Glaze
---
---
serves 2
Ingredients:
2 ea (8oz) Swordfish Steaks
1 whole tomato, cut into large chunks
1/2 cup of fresh basil, chiffonade
2 cloves garlic, minced
3 Tbsp. Extra Virgin Olive Oil
1/2 cup Balsamic Vinegar
salt & pepper to taste
Direction:
1) Heat a non-stick skillet on medium high heat and add olive oil.
2) Season fish with salt and pepper and place in the hot skillet.  Cook for 3 minutes per side until done or until internal temperature reaches 145°F.
3) Plate fish and set aside.
4) Using the same skillet, place on medium-low heat and add 1 Tbsp. extra virgin olive oil followed by garlic, tomato chunks and a pinch of salt and pepper. Sauté for 1 to 2 minutes and then add balsamic vinegar and basil. Stir for an additional 30 seconds and then turn off heat.
5) Spoon the tomato and basil mixture on top of your Swordfish.
Enjoy!
---
To defrost frozen seafood from Seafood Express, remove all plastic packaging and thaw it in the refrigerator.