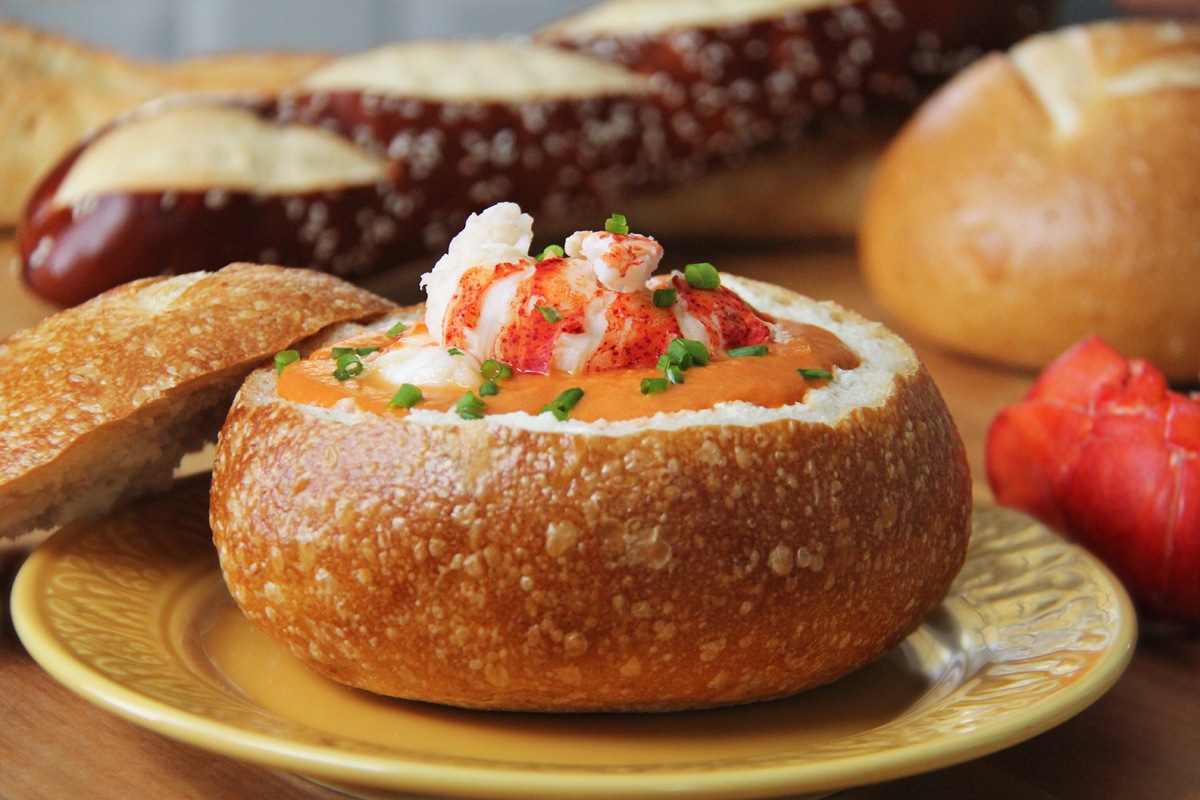 (two servings)

INGREDIENTS: 
2 each 1lb. Lobster Tails, raw
2 each RöckenWagner Sourdough Boule
3 Tbsp. butter
2 cups onion, chopped
1 cup carrots, chopped
1 cup celery, chopped
2 cloves garlic, minced
2 Tbsp. tomato paste
1 each 8 oz. Santa Monica Seafood's Lobster Stock
2 Tbsp. all-purpose flour
4 cups water
1 1/2 cups dry white wine
1 bay leaf
2 sprigs fresh thyme
1/2 cup heavy whipping cream
chives, chopped
salt and fresh ground black pepper
DIRECTIONS:
1) In a pot, bring water to a boil and add in Lobster tails. Cook for about 10 minutes.
2) Remove Lobster tails from the pot making sure you reserve the boiled Lobster water and then separate meat from its shell. Chop the Lobster meat into large chunks and add Lobster shells back to the Lobster water and continue cooking.
3) Add white wine to the stock along with salt, black pepper, SMS Lobster stock and bay leaf. Let it simmer for about 8-10 minutes.
4) Pour the lobster stock through a fine strainer in a bowl. Set aside.
5) Using the same pot, place over medium high heat and add butter to let it melt until it turns into light brown color. Add in garlic and your mirepoix ingredients: onions, celery and carrots and then cook until tender.
6) Add flour to the mix and stir for about 2 minutes. Add in the Lobster stock, heavy cream, tomato paste, salt, black pepper, 2 sprigs of fresh thyme and let it simmer to a boil.
7) Remove the thyme stems and using a hand-held blender, puree until smooth. (You can also use a regular blender. Be careful as hot ingredients may burst. Once pureed, pour back into the pot to simmer a bit more-about 5 minutes)
8) To serve, cut the top off the RöckenWagner Sourdough Boule, remove some of the breads interior and then add in your bisque.  Finish it with chunks of Lobster meat and chopped chives.
*For extra flavor, toss your lobster meat in brown butter before topping it on the Lobster Bisque.