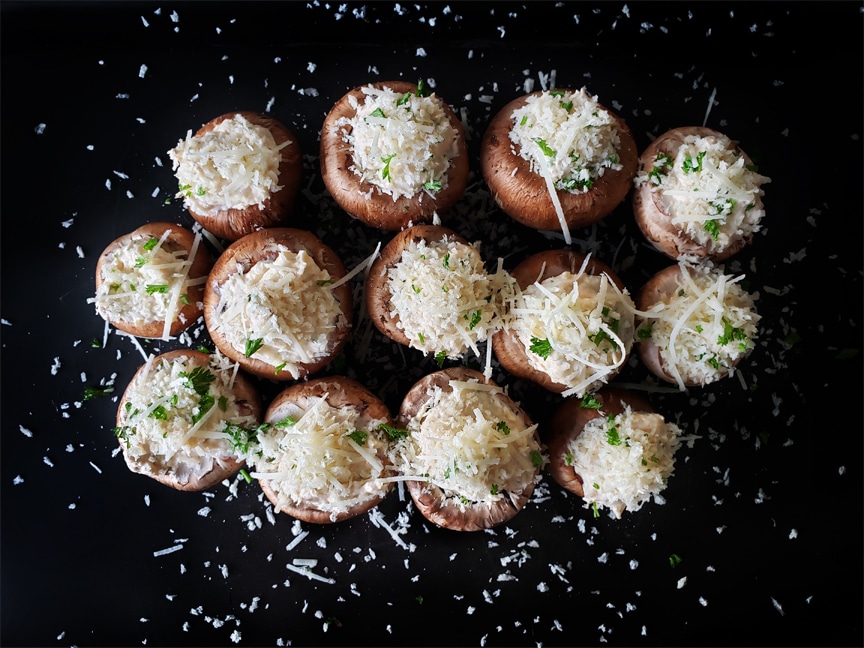 Ingredients:
8oz Snow Crab Spread (seasonal item at our Deli Case!)
2oz Crab Meat, shredded
1tsp Fresh Parsley, finely chopped
2Tbsp. Parmesan, freshly grated
1lb Cremini Mushrooms, clean and then take stems off (finely chop about 2 oz of stems for the stuffing)
2Tbsp. Panko
1tsp Olive Oil or Cooking Spray
1/2tsp Kosher salt
1/2tsp Freshly ground black pepper
Instructions:
Pre-heat oven to 400°F.
Spray your baking sheet with cooking spray or grease using 1 teaspoon of olive oil.
Place mushroom caps on top of the baking sheet with bottom side up.
In a bowl, mix Snow crab spread, crab meat, chopped mushroom stems, salt and black pepper. Top each mushroom caps with the mixture.
In another bowl, add panko, Parmesan cheese and parsley.  Mix and then top each stuffed mushroom caps with the dry mixture.
Bake in the oven for about 15-20 minutes or until mushrooms are soft and the toppings are golden brown.
Enjoy!