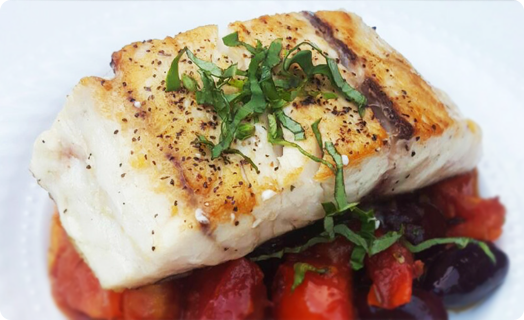 Ingredients:
1 lb Meagre Fillet (cut to 4oz ea)
3 jumbo ripe tomatoes (largely diced)
1 cup Kalamata olives (pitted & drained)
1 tbsp. capers (drained)
3 cloves of garlic (minced)
4 tbsp. olive oil
1/2 cup basil (julienned)
salt & pepper to taste
SERVES 4
Directions:
1.  Pre-heat oven to 350°F.
2.  Heat a non-stick skillet on medium-high and add 2 tbsp. of olive oil. Add Meagre and season with salt and pepper. Sear for about 2 minutes, turn, and let it cook on the other side for 2 more minutes. Place in the oven for about 8-10 minutes.
3.  While fish is cooking in the oven, heat up another skillet and add the remaining olive oil. Add in garlic, tomatoes, Kalamata olives capers and a touch of salt and pepper. Cook for about 5 minutes, turn off the heat and quickly stir in 1/4 of your basil.
4.  Plate your dish with the tomato and olives as your base topped with the baked Meagre. Garnish with the remaining basil and enjoy!