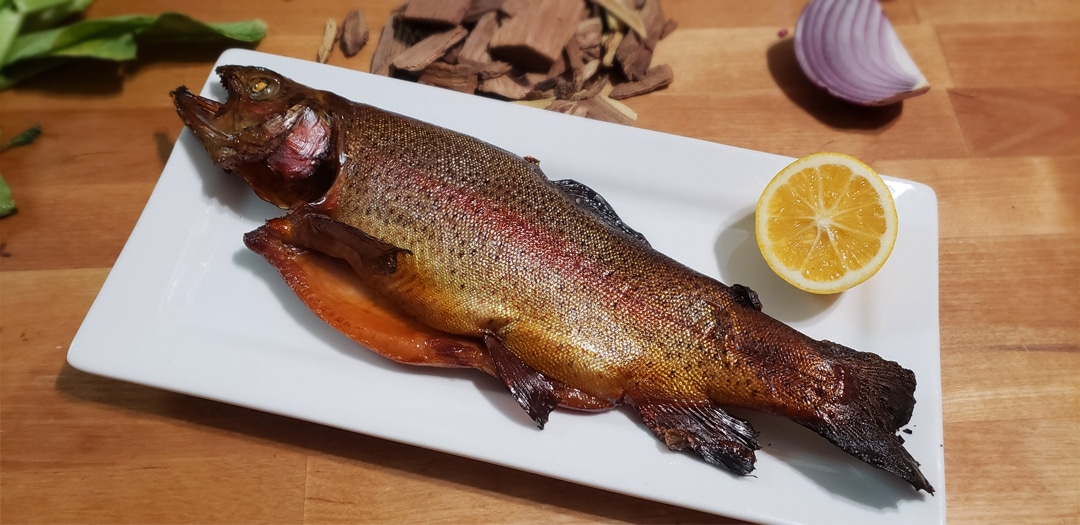 Serves 4
Ingredients:
1 or 2 Whole Rainbow Trout
4 cups of water
1/3 cup Kosher Salt
1/3 cup Brown Sugar
1/3 cup Coconut Aminos or Soy Sauce (optional)
2 ea Bay Leaves (optional)
3-4 cups All Natural Hickory Wood Chips
Aluminum Foil
Directions:
Day One (Brine fish)
Place fish in a bowl or container preferably one with a lid.
In a separate bowl add water, salt, brown sugar, coconut aminos/soy sauce and bay leaves. Stir until salt and sugar dissolves and then pour over  fish.  Cover with a tight lid (or saran plastic wrap) and place in the refrigerator for 12-24 hours.
Remove fish from the bowl or container and pat dry. Place fish on a lined rack and put back into the refrigerator uncovered for another 12 hours.
Day Two (Smoking)
Before starting the smoking process, we highly recommend that all windows are opened.  Smoking fish in the oven can make items in your household smell like camp-fire smoke.
Place oven rack at the very bottom of the oven and then set temperature to 250°F.
In a small skillet, toast your wood chips over the burner until it starts to smolder.
Remove the rack (with the fish still resting on top) and leave the liner tray exposed.  Wipe any extra liquid that's inside the tray.  Pour the smoldering wood chips onto the tray and place back the rack with fish over it.
Seal everything tight with aluminum foil and place in the oven for 1.5 to 2 hours.  After 2 hours, bring the temperature up to 500°F and cook for about 15-20 minutes or until fish is done.
Serve warm right out of the oven or refrigerate to enjoy it chilled.