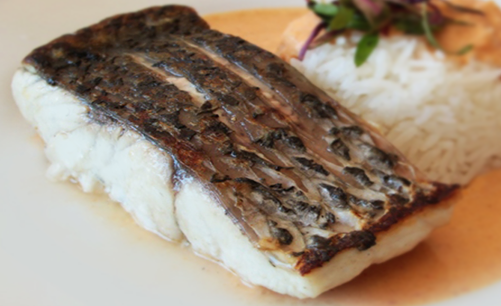 ---
Serves 2
Ingredients:
2 Barramundi fillets
1 Tbsp. olive oil
2 cups of rice
1 cup of curry sauce
salt and pepper to taste
micro basil for garnish
Directions:
Heat a skillet on high with olive oil. Season the Barramundi with salt and pepper.
Once the skillet is smoking hot, place the fish skin side down. Give the skillet a shake to loosen the fish.  Cook for 6 minutes or until the skin is crispy.
Flip and cook for ten minutes or until fish is cooked through.
Make rice according to the package directions and heat a curry sauce of your choice.
Plate rice. Drizzle curry sauce over the rice and onto the bottom of the bowl. Place the fish on top and garnish with micro basil.