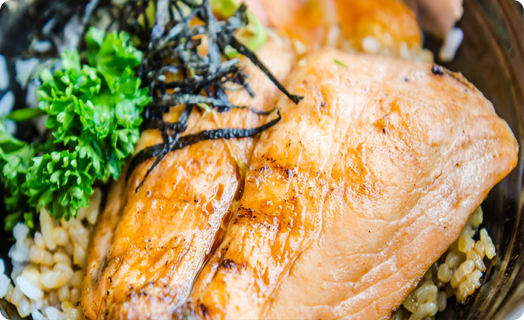 Ingredients:
1 lb of salmon fillet (skin on and cut into 4 portions)
1/4 cup sake
1/4 cup mirin
1/4 cup soy sauce
2 tsp. sugar
3 Tbsp. peanut oil
SERVES 4
Directions:
1) In a small pot, combine sake, mirin and soy sauce and bring to a simmer – stir in the sugar until it dissolves, then remove from heat.
2) Heat peanut oil in a large pan almost to smoking over high heat. Carefully place fish skin side down in the pan, turn the heat down to medium high and let cook for about 2 minutes. As soon as the fish releases naturally from the pan, flip the fillets and let it cook for another minute.
3) Just before the fish is done cooking, pour the sake/mirin sauce into the pan with the fillets. Continue cooking while the sauce reduces to a glaze. Serve over rice and top fish with remaining glaze in the pan.