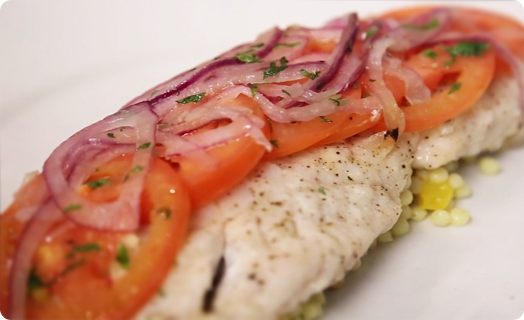 Ingredients:
2 Rockfish fillets
1 Tbsp. olive oil
1 Roma tomato, sliced
1/2 red onion, thinly sliced
2 tsp fresh thyme, chopped
2 tsp fresh basil, chopped
2 tsp fresh parsley, chopped
1 lb Israeli Couscous from our Deli Case
2 sheets of foil
salt and pepper to taste
SERVES 2
Directions:
1.  Pre-heat grill to medium-high.
2.  Brush a small amount of olive oil onto both foils.
3.  Place fish on top of the foil followed by tomato slices, red onions, 1 tsp. of olive oil drizzled on top and a pinch each of the 3 herbs.  Season with salt and black pepper.
4.  Wrap the foil up and place on the hot grill for 3 minutes.
5.  Flip and grill for another 3 minutes or until done, depending on the thickness of the fish.
6.  Serve on top of a bed of Israeli Couscous and enjoy!