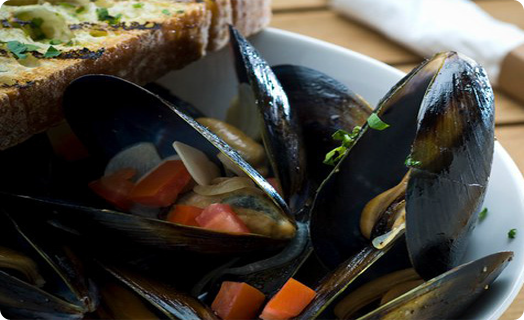 Ingredients:
2 lbs. Mussels
1 Tbsp. olive oil
2 Tbsp. fresh basil, chopped
3 garlic cloves, minced
1 tub SMS fish stock
2 large shallots, chopped
Kosher salt
freshly ground black pepper
3/4 cup Sierra Nevada
1 Tbsp. chopped fresh parsley
A few slices grilled Ciabatta bread
SERVES 2
Directions:
1.  Rinse Mussels under cold running water.
2.  In a soup pot with a tight-fitting cover, heat olive oil, then add basil, garlic, shallots and a pinch of salt and pepper. Sauté until shallots and garlic are softened, about 3 minutes.
3.  Pour in ale and fish stock and bring to a simmer. Add Mussels and cover pot. Let Mussels steam, stirring once or twice, until they open, 5 to 10 minutes. Discard any Mussels that have not opened.
3.  Pour Mussels into a large serving bowl and serve with bread for sopping up juices.