Wild Alaska Coho Salmon are also known as Silver Salmon. This fish used to be one of the most popular of the commercially harvested salmon.
Wild caught Coho Salmon (especially troll caught fish) are exceptionally flavorful with moderate to high levels of fat. 
COUNTRY OF ORIGIN: Alaska
CHARACTERISTICS:  This is a very versatile fish to work with. Meat is firm and moist with a delicious buttery flavor.
COOKING SUGGESTION: Poached  |  Baked  |  Grilled  |  Steamed | Roasted  | Broiled
WINE PAIRING: Chardonnay
---
RECIPE: Grilled Salmon with Mixed Greens
---
---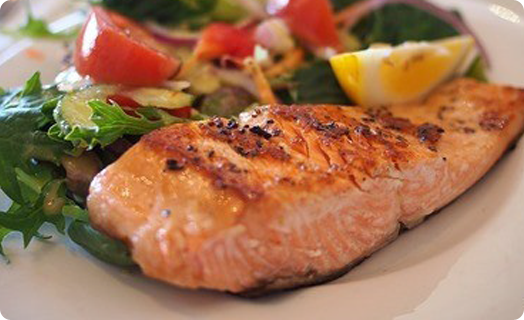 serves 2
Ingredients:
2 Coho Salmon Portions
2 cups mixed greens
10 cherry tomatoes, halved
1 radish, sliced
2 Tbsp. capers
1/4 cup purple onions, sliced
1/2 avocado, diced
1 lemon, zested and juiced
1 cup olive oil
salt and pepper
Directions:
1. Pre-heat your grill to high and the oven to 400°F.
2. Coat Salmon with olive oil and season with salt and pepper.
3. Place Salmon on the grill for 2 minutes, flip and grill for another 2 minutes. Place Salmon on a baking dish and cook in the oven for 4 minutes.
4. In a large bowl, add mixed greens, tomatoes, capers and purple onions. Set aside.
5. In a small bowl add lemon juice, zest, salt, pepper and olive oil. Mixed and set aside.
6. Plate your fish with a side of the mixed greens.  Top salad with the lemon dressing and avocados.
Enjoy!
---
To defrost frozen seafood from Seafood Express, remove all plastic packaging and thaw it in the refrigerator.