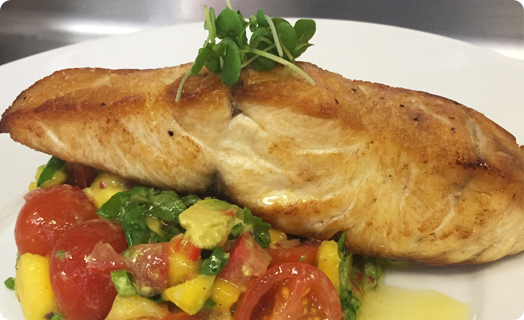 Ingredients:
2 fillets of Wahoo (Ono)
salt and pepper
1 whole avocado, diced
1/4 cup chopped basil
2 Tbsp. green onion, diced
1/2 lemon, juiced
1/4 cup olive oil
1/4 cup mango salsa (on special)
16 cherry tomatoes, halved
micro basil
SERVES 2
Directions:
1. Season the fillets with salt and pepper. Get an oven-safe skillet smoking hot with olive oil. Place the fish in the skillet for three minutes. Flip, and place the entire skillet in the oven at 350* for five minutes.
2. In the meantime, mix the avocado, cherry tomatoes, green onions, basil, mango salsa and lemon juice together. Be careful not to mush the avocado.
3. Remove the fish and let it rest for 1 minute.
4. Plate the avocado salad and place the fish on top. Garnish with a drizzle of olive oil and micro basil. Enjoy!